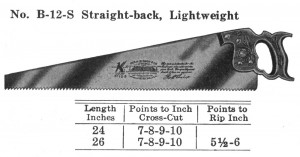 Blade is thin back, full taper ground, for fast and easy sawing. Teeth bevel filed. New style selected applewood handle, full carved and polished, comfortable grip, new weatherproof lacquer finish.
A straight back saw with a thin 'lightweight' plate. The handle is reminiscent of a Disston No. 12, as is the model number. Part of the series of saws described by the etch as "High Speed".
The saw was also offered in a wide-pattern: No. B-12.