Most saws made have common markings such as the maker's stamp or etch, a model number and the tooth pitch. While these are generally all you need to identify a saw, there is another set of obscure marks hiding just out of the way, under the handle (or tote in some parlance). Another identifier under the handle is the shape of the heel.
This is a study of these marks and forms. At the moment this study is beginning and doesn't have many (actually, any) conclusions.
Please, if you have the handle off of a saw take a picture of the heel and send it in to me. It's preferable to use grid-paper or a rule to give some scale–but not necessary. Even if there are no obvious stamps, the arrangement of holes and shape of the cut-out could yield interesting information about that saw. Include, if known: maker & brand, model, size(ppi/tpi and length) era etc. If you can, please also send a shot of the whole saw and medallion. Don't worry about filling all the criteria; send what you have, it's always helpful.
The goal is to learn what many of these marks mean. This can be applied in dating or just identifying a saw, when there is no other way to do so. It should also shed light on who really made a saw, as there were many brands and buyouts that confuse the matter, but matching marks should clarify.
Disston
Marks from a 1897-1918 No. 12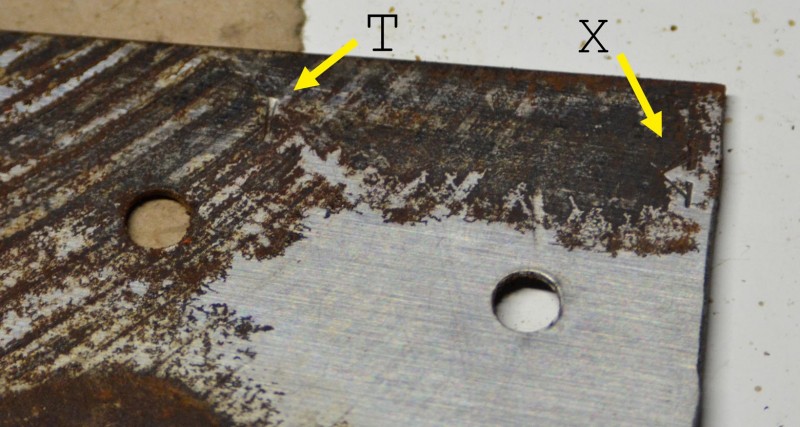 It's my understanding that all saws with "Extra"/"London Spring" have an 'X' stamped on the handle.
Winchester
Here is the under-handle section of a Winchester, with what appears to be a "7″ mark. The mark is faint, so I'm not positive about that. Also, note the form of the heel on this plate. I've been trying to figure out what manufacturer made saws for Winchester and this is a clue, I just don't have anything to match it up with.