I've found almost no information online about George H. Bishop & Co. or it's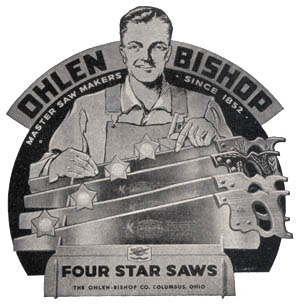 successor Ohlen-Bishop Saws. No catalogs, no type studies, nothing. What I have found is an apparently hard-to-acquire copy of their 1937 handbook: Saw Efficiency. A quality, color scan is available from my Library . I am creating a page of Bishop's offerings and history starting with this handbook and adding as I can find additional information.
History
According to the '37 handbook they have been in business for 85 years, dating them to 1852. Bishop medallions represent the company in Cincinnati, Ohio; while the Ohlen-Bishop Co. was based in Columbus, Ohio. Bishop is known to have manufactured saws for other companies, such as C.A. Strelinger & Co.
Note on terminology used on the Bishop pages:
"Width/Wide" is used for the same dimension I describe as depth: the distance from the back to the toothline.
"Lightweight" is a plate that is partial depth, like a Disston D-23.
"Regular" is a plate of typical depth for saws manufactured in the 20s-30s like a Disston D-8 or D-20.
"Thin" refers to the thickness of the plate.
Hand Saws
Zephyr 44
Back Saws
No. 2 (Pattern Makers/Dovetail Saw)
Everything else
No. 1 (Compass Saw)
No. 16 (Keyhole/Pad Saw)
No. 19 (Keyhole Saw)
No. 21 (Compass Hack Saw)
No. 23 (Compass Saw)
No. 99-N (Pruning Saw)